Top of the Rock Aussichtsplattform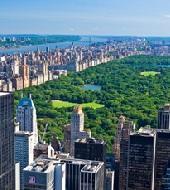 Garantiert eine Erfahrung die Sie nie mehr vergessen werden!
Entdecken Sie die Top oft he Rock Aussichtsplattform und erleben Sie atemberaubende Aussichten über New York City. Steigen Sie in einer der Aufzüge mit Glasdecke für eine spannende Fahrt hoch zur Spitze, wo Sie drei Ebenen mit spektakulären Aussichten vorfinden werden, inklusive einer unglaublichen 360-Grad-Aussicht auf dem Außendeck von der 70. Etage. Erhalten Sie Ihre Tickets jetzt um New York City von der Top of the Rock Aussichtsplattform auf dem Rockefeller Center.
Kaufen Sie Ihre Tickets online und verzichten auf die Warteschlange!
Adresse:
49th Street between 5th & 6th Avenues.
Öffnungszeiten:
8:00 - Mitternacht
(letzter Aufzug um 23:15 Uhr)
Das Ticket wird Ihnen in einer separaten E-Mail innerhalb 24 Stunden zugestellt.

Tickets per E-Mail.