The Lion King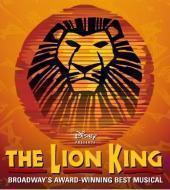 The Serengeti comes to life as never before through the extraordinary vision that is THE LION KING. More than 55 million people have felt the thrill of this landmark musical event. Giraffes strut, birds swoop, and gazelles leap in a dazzling panorama that overwhelms the senses and inspires you with the wonder of life.
There's no better place to experience this landmark entertainment event than in the city where it all began. Join us at the Minskoff Theatre, in the heart of Times Square, and discover the pride of New York.
Duration:
2hrs 45 minutes (approx.)
Sessions:
Sunday: 3pm
Tuesday: 7pm
Wednesday: 8pm
Thursday: 8pm
Friday: 8pm
Saturday: 2pm 8pm
Seats - mezzanine:
Location:

Minskoff Theatre
200 W 45 Street New York, NY
Your ticket will be sent within 24 hours in a separate e-mail.

Tickets will be sent via e-mail!