Tour Sex and The City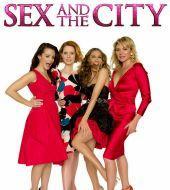 Segui le orme di Carrie & co. in giro per New York!
Visita più di 40 posti dove si sono svolte le avventure delle girls più famose della Grande Mela. Le visite sono condotte da attori locali, in modo da soddisfare le tue curiosità su Sex and the City!
• Vai alla boutique dove Charlotte ha comprato il suo "coniglio"
• Visita il negozio di mobili dove Aidan ha lavorato come designer
• Prendi un drink al Scout, il bar di proprietà di Steve e Aidan
• Visita anche i luoghi che sono stati utilizzati nel film Sex and the City!
Devi prenotare questo tour con 48 ore in anticipo!
Durata: Circa 3 ore e mezza
Luogo di partenza:
strada 5° e 58° dalla Fontana Pulitzer (confermata al momento del rilascio del voucher)
Orario di partenza:
Domenica - Giovedi alle 11:00
Venerdì e Sabato ar 11:00 e 15:00
Il biglietto verrà inviato entro 24 ore in un'e-mail separata

I biglietti saranno inviati via email