Museo di Arte Metropolitana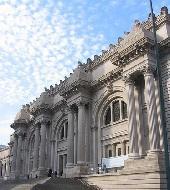 La vostra prima visita al MET di certo non sarà l'ultima!
Si tratta di una delle più popolari attrazioni turistiche della città di New York, il Metropolitan Museum of Art (conosciuto come "The Met") riceve più di 5 milioni di visitatori all'anno. Le collezioni del Metropolitan Museum of Art e le sue mostre speciali offrono molta varietà, dai vasi dell'Antico Egitto alle statue romane ai cristalli di Tiffany o dipinti di Rembrandt, quindi c'è qualcosa per tutto il mondo.
Acquista i biglietti on-line ed evita lunghe code all'entrata!
Indirizzo:
1000 Fifth Avenue
New York, NY 10028-0198
Orari di apertura:

Domenica, martedì - giovedì: 10:00h -17:30h
Venerdì e sabato: 10:00h - 21:00h
Chiuso il lunedì, nel giorno del Ringraziamento, il 25 dicembre e il primo gennaio

I biglietti saranno inviati via email