Downtown Tour + Vrijheidsbeeld bezoek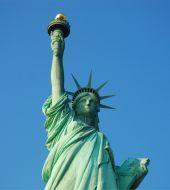 Downtown Tour + Vrijheidsbeeld bezoek
De Hop on Hop off Bus in ´Downtown´ New York neemt u mee door de meest bekende buurten, naar de meest beroemde attracties en de meest geweldige bezienswaardigheden: Times Square, Madison Square Garden, Macy's, Empire State Building, SoHo, Chinatown, Little Italy, Site of the World Trade Center, Wall Street, Financial District, Battery Park South Street Seaport, Lower East Side, United Nations, Rockefeller Center, Carnegie Hall, Broadway Theatre District. En nog veel meer!
Met deze tour gaat u ook naar Liberty Island waar het Vrijheidsbeeld van New York staat. Uiteindelijk bezoekt u ook Ellis Island. Hier staat het Immigration Museum. Een bezoek aan het Vrijheidsbeeld is een unicum aangezien tickets vaak al maanden van tevoren uitverkocht zijn. Onze samenwerkingspartner maakt al vroeg reserveringen zodat u met deze tour de wachtrij ontloopt.
Let op! Uw tickets voor de Hop on Hop off Bus Downtown Tour zijn geldig voor 24 uur vanaf het moment dat u uw voucher inlevert in de bus.
Duur:
4 - 4,5 uur
Vertrekpunt:
777 8th Avenue (tussen 47 & 48th streets)
Vertrektijd:
Dagelijks om 9.00u.
U ontvangt uw tickets binnen 24 uur na uw bestelling per e-mail

Tickets worden verzonden per e-mail.