Liberty Helicopter Tours - New York, New York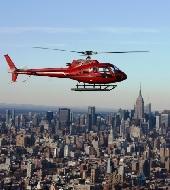 Deze adembenemende Helicopter vlucht spreekt voor zich; New York, New York!
Zweef boven de New York Harbor en aanschouw de meest boeiende bezienswaardigheden van Manhattan van bovenaf. Uw tour begint langs de Hudson River, vervolgens vliegt u over het financial district en bekijkt u het Vrijheidsbeeld, het onlangs gerenoveerde Governors Island, Ellis Island en de Verrazano Bridge. Uw helikopter vliegt vervolgens verder via de Hudson River naar Midtown, waar u alle beroemde wolkenkrabbers van New York City kunt aanschouwen, waaronder the Empire State Building, Met Life, the Woolworth en the Chrysler building. Ook krijgt u Central Park, St. John the Devine Cathedral, Columbia University, George Washington Bridge en the Palisades of New Jersey te zien.
Deze werkelijk allesomvattende tour is geeft u een spectaculair totaaloverzicht van deze immense stad.
Let op: nieuwe veiligheidseisen:
* Alle passagiers moeten een geldig identiteitsbewijs met foto meebrengen.
* Alle tassen worden gecontroleerd door de beveiliging.
* Alle klanten worden gecheckt middels een metaaldetector.
Let op! U betaald een $40 security fee per persoon op alle drie de Heliport locaties.

Duur van de Tour:
Circa 20 minuten

Vertrektijden:
Dagelijks tussen 10.00 en 15.00 uur.
Gesloten op 25 december en 1 januari.
Vertrek vanaf één van de volgende 3 Heliports:
THE DOWNTOWN MANHATTAN HELIPORT, PIER 6 & THE EAST RIVER
U ontvangt uw tickets binnen 24 uur na uw bestelling per e-mail

Tickets worden verzonden per e-mail.
Excursies vanuit New York
Kijk verder dan Manhattan, maar breng ook eens een bezoek aan de hoofdstad van de Verenigde Staten op een dagtrip vanuit New York! Of boek een dagtrip naar de historische stad Philadelphia en zie hoe de Amish leven zonder voordelen van de moderne technologie... Helemaal een niet te missen ervaring is de Harlem Gospel Tour waarin u kunt genieten v
an de prachtige Acapella klanken van het ARC Gospel koor tijdens hun
'Hour of Power'.
Selecteer een van onze excursies en ontdek ook de geweldige omgeving van Manhattan.