Mamma Mia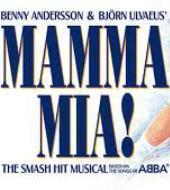 Mamma Mia är en solig, rolig berättelse som utspelar sig på en liten grekisk ö. På tröskeln till sitt bröllop, strävar en dotter att upptäcka sin fars identitet och hämtar tre män från hennes mors förflutna tillbaka 20 år senare. Du behöver inte vara ett fan av supergruppen ABBA som står för 23 hitlåtar i Mamma Mia! för att förälska dig i denna oförglömliga show.
Här är vad kritikerna säger om Mamma Mia!: "Showen är fantastiskt rolig!" (Ben Brantley - New York Times), "Mamma Mia! sprider lycka och glädje vart den än spelas"(Time Magazine),"En megahit som får publiken att dansa i gångarna!" (Associated Press), "Luta dig bara tillbaka och låt glädjen svepa över dig" (Clive Barnes - New York Post).
Varaktighet:
Längd: 2,30 tim (ungefär)
Sessioner
Söndag: 19:00
Måndag: 20:00
Tisdag: 20:00
Onsdag: 20:00
Torsdag: 20:00
Fredag: 20:00
Lördag: 14:00
Det finns inga sessioner:
1, 8, 15, 16 och 24 september
1, 8 och 15 oktober
Plats:
Winter Garden Theatre
1634 Broadway New York, NY
The ticket will be sent within 24 hours in a seperate e-mail.

Send by email