Motown: The Musical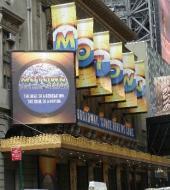 WELCOME TO HITSVILLE, USA!
Musikalen skildrar den verkliga historien bakom det unika ljuded som spelades på etern 1959 och ändrade Amerika för evigt. Denna spännande show kartlägger Motown-grundaren Berry Gordys otroliga resa från en fjäderlätt boxare till en tung musikmogul som lanserade karriärer såsom Diana Ross, Michael Jackson, Stevie Wonder, Smokey Robinson, Marvin Gaye och många fler. MOTOWN The Musial har alla klassiker som du älskar och berättar historien bakom hiten som Diana, Smokey, Berry och hela Motown-familjens som kämpaade mot alla odds att skapa soundtracket som förändrade Amerika. Motown krossade barriärer formade våra liv och fick oss alla att röra oss i samma takt. Nu kommer den änltligen till Broadway, säsongens mest efterlängtade världspremiär, MOTOWN: The Musical... Gör dig redo för här kommer vi!
Varaktighet:
2 timmar 45 minuter (ungefär)
Sessioner är oftast kl. 14:00, 19:00 eller 20:00. Det finns dagar då det inte finns några sessioner. Vi skickar din information via e-post.
Plats:
Lunt-Fontanne Theatre
205 W 46th Street New York, NY
The ticket will be sent within 24 hours in a seperate e-mail.

Send by email