The Lion King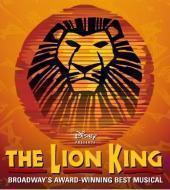 Serengeti kommer till liv som aldrig förr genom en extraordinär ljud och bild som THE LION KING (Lejonkungen). Mer än 55 miljoner människor har känt spänningen av detta musikevenemangets milstolpe. Giraffer som stoltserar, fåglanas som går till anfall och gaseller hoppar i en bländande panorama överväldigar sinnena och inspirerar med det underbara i livet.
Det finns ingen bättre plats att uppleva underhållningen milstolpe än i staden där allt började. Följ med oss till Minskoff Theatre i hjärtat av Times Square och upptäck New Yorks stolthet.
Varaktighet:
2,45 tim (ungefär)
Sessioner:
Söndag: 13:00, 18:30
Tisdag: 19:00
Onsdag: 19:00
Torsdag: 20:00
Fredag: 20:00
Lördag: 14:00, 20:00
Sittplatser - första raten:
Plats:
Minskoff Theatre
200 W 45 Street New York, NY
The ticket will be sent within 24 hours in a seperate e-mail.

Send by email