The Phantom of the Opera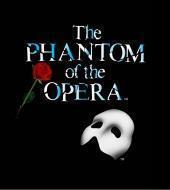 Kvällen tillhör Fantomen. Och nu är det perfekt tid att se den äldsta spelade showen i Broadways historia - för första eller tionde gången!
Andrew Lloyd Webbers mästerverk, vinnare av sju 1988 Tony® Awards och Best Musical, och är den äldsta spelade musikalen i Broadways historia - ett internationellt fenomen som avslöjar känslor som ingen annan show kan och gör publiken spänd av förväntan.
Du kommer att bli hänförd av den överdådiga musiken, den spöklika romansen och den tidlösa historien om förförelse och förtvivlan.
Längd: 2,30 tim (ungefär)
Alternativ 1:
Måndag: 20:00
Tisdag: 19:00
Onsdag: 20:00
Torsdag: 14:00, 20:00
Alternativ 2:
Fredag: 20:00
Lördag: 14:00, 20:00
Plats:
Majestic Theatre
245 West 44th Street New York, NY
The ticket will be sent within 24 hours in a seperate e-mail.

Send by email