Cykeluthyrning för comfort biking (hybridcykel)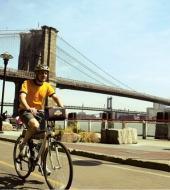 Denna cykel vann Bicycling Magazine 2008 Editor's Choice Award för bästa commuter bike. Det är den bästa för att cykla över Brooklyn Bridge!
Ingår:
• Cykellås, hjälm och vänlig service
• Toaletter och mat finns att köpa i närheten
Villkor:
• Cyklar måste återlämnas inom hyresperioden 24 timmar. Stängningstid är 19:30.
• Kreditkort krävs för deposition vid hyrningen. Om cyklar lämnas tillbaka efter 24 timmar, är timtaxan 14 $/timme, 44 $/dag och 25 $/dag för barn.
Plats:
Pier 78 (39th Street och 12th ave)
Öppettider:
Öppet 09:00 - 19:30
Genomsnittlig besökstid:
Cykeluthyrning löper 24 timmar från inlösen.
The ticket will be sent within 24 hours in a seperate e-mail.

Send by email