Transfer från New Yorks Flygplatser till ditt hotell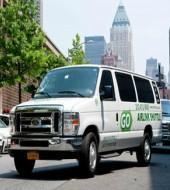 Det finns inget mer ansträngande efter en lång flygning än att hitta en taxi och betala ett orimligt högt pris. Välj istället den enkla vägen med en förbetald, delad transport från JFK, Newark eller La Guardia till ditt hotell på Manhattan. Pendelbussar kör dygnet runt. Vi erbjuder moderna och bekväma minibussar med ett team av professionella, utbildade och tillmötesgående förare som känner New York utantill.
Transfer till och från flygplatsen
När du anländer till JFK, LaGuardia eller Newark, gå bara till "Ground Transportation Desk" i ankomstterminalen och visa upp din kupong. Ingen tidigare bekräftelse krävs och gratis telefoner finns i varje terminal vid bagageutlämningen.
Med transfern vid ankomsten i New York, blir början av din vistelse i The Big Apple lättare!
Denna transfer tjänar endast Manhattans hotell.
Vänligen observera:
Varje resenär får ha högst en resväska och handbagage
Minibussen rymmer högst elva passagerare
Gratis för små barn under 3 år, ingen bilbarnstol tillhandahålls i fordonen. Du måste ta med en bilbarnstol för småbarn (pga. lokala lagar, förbehåller förare sig rätten att neka åtkomst till alla passagerare som inte har bilbarnstolar för små barn.)
Startplats:
New York flygplatser: JFK, Newark eller La Guardia
Avgångstid:
vald timme (transfer kör dygnet runt, alla dagar i veckan). Vi kommer att kontakta dig efter din bokning.
Varaktighet:
Varierar
The ticket will be sent within 24 hours in a seperate e-mail.

Send by email