Guggenheim Museum New York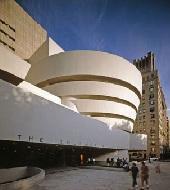 En konstälskares dröm!
Frank Lloyd Wrights mästerverk av modern arkitektur är en av världens finaste samlingar från 1900-talets konst. Missa inte gå den stora rampen som svänger från marken till kupolen. Du kommer se mästerverk av framstående konstnärer som Chagall, Kandinsky, Picasso och Van Gogh, plus växlande utställningar som alltid är betydande och spännande. De som älskar modern konst kommer att njuta av mästerverk allt från Modigliani till Mondrian. Oavsett tycke och smak, kommer samlingarna och utställningarna vara väl värda din tid när du besöker New York City.
Köp dina biljetter online och skippa kön!
Plats:
1071 Fifth Avenue (89th St)
New York, NY 10128-0173

Öppettider:
Söndag - onsdag 10:00-17:45
Fredag 10:00-17:45
Lördag 10:00-19:45
Stängt torsdagar, Thanksgiving, julafton, juldagen
Vissa gallerier kan stänga innan 17:45, söndag - onsdag och fredag (19:45 lördag)
The ticket will be sent within 24 hours in a seperate e-mail.

Send by email