Metropolitan Museum of Art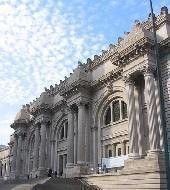 Ditt första besök i The MET kommer definitivt inte vara din sista!
En värld av konst väntar på dig i New Yorks största museum och mest besökta attraktion. Med nästan två miljoner konstverk som spänner över mer än 5000 år av kultur, presenterar Metropolitan Museum of Art ("The Met") det bästa av mänsklig kreativitet från hela världen. Den permanenta samlingen och 30 speciella utställningar per år har något för alla - från forntida egyptisk konst och grekiska och romerska statyer, till älskade impressionistiska målningar, och det senaste inom modern konst.
Köp dina biljetter online och skippa kön!

Plats:
1000 Fifth Avenue
New York, NY 10028-0198
Öppettider:
Söndag, tisdag - torsdag: 10:00 till 17:30
Fredag och lördag: 10.00 - 21.00
Stängt på måndag, tacksägelse, 25 december och 1 januari
Din biljett är giltig i 6 månader!

Send by email