Museum of Arts and Design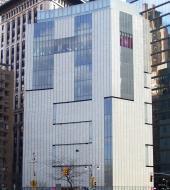 Museum of Arts and Design utforskar dagens suddiga zon mellan konst, design och hantverk. Museet fokuserar på samtida kreativitet och sätten på vilka konstnärer och designers från hela världen förvandlar material genom olika processer från hantverk till digital.
Saker du kommer se:

• Urval av MAD:s samlingar
• Tillfälliga utställningar av samtida konst och design
• Utställningar av moderna "studiosmycken"
Plats:
2 Columbus Circle
Öppettider
Måndag STÄNGT
Tisdag: 11:00-18:00
Onsdag: 11:00-18:00
Torsdag: 11:00-21:00
Fredag: 11:00-21:00
Lördag-söndag: 11:00-18:00
Gratis inträde för barn i åldrarna 12 år och yngre i sällskap med en vuxen.
The ticket will be sent within 24 hours in a seperate e-mail.

Send by email