Boston Tour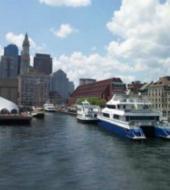 Besök den historiska staden Boston med en eskorterad tur genom platser med kända landmärken. Vid ankomsten i Boston börjar vår tur med en promenad längs Freedom Trail, sedan vidare till Boston Harbor för att se det berömda "Tea Party", flottan "Constitution" och Bunker Hill, och därefter bär det av till Financial District. Paus för lunch på Quincy Market och njuta av Boston Common. Efter lunch korsar vi Charles River att promenera på torgen vid Universitetena Cambridge - Harvard och MIT Sent på eftermiddagen åker vi sydväst och anländer till New York på kvällen.
VAD SOM INGÅR I TUREN:
• Luftkonditionerad van eller buss och professionell reseguide
• Sightseeing i Boston
Guidning på engelska, italienska och spanska finns på begäran
Turens längd:
12 timmar
Avgångsplats:
777 8th Avenue mellan 47th och 48th Street., New York, New York, 10036
Avgångstid:
Endast onsdag, fredag och söndag
Turen avgår kl. 07:00 och återvänder ca. 20:00 (beroende på trafik).
Checka in 15 minuter innan
The ticket will be sent within 24 hours in a seperate e-mail.

Send by email