Metropolitan Museum of Art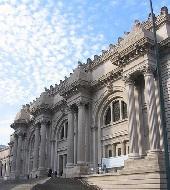 Ihr erster Besuch im MET wird sicherlich nicht Ihr letzter sein!
Eine von New York's bekannteste Touristen-Attraktion, das Metropolitan Museum of Art (besser bekannt als das "MET") heißt über 5 Millionen Besucher pro Jahr willkommen. Die Sammlung des Metropolitan Museum of Art und spezielle Ausstellungen bieten für jeden etwas – von Antiken Ägyptischen Vasen und Römischen Statuen über Tiffany's Buntglas zu Rembrandt's Gemälden gibt es etwas für beinahe jedermann.
Kaufen Sie Ihr Ticket online und verzichten Sie auf die lange Warteschlange!
Adresse:
1000 Fifth Avenue
New York, NY 10028-0198
Öffnungszeiten:
Sonntag, Dienstag - Donnerstag: 10:00 Uhr - 17:30 Uhr
Freitag und Samstag: 10:00 Uhr - 21:00 Uhr
Montags, an Thanksgiving (amerikanisches Erntedankfest) und am 25. Dezember und 1. Januar geschlossen

Tickets per E-Mail.