Guggenheim Museum New York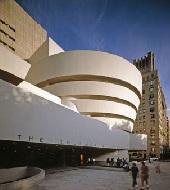 An Art Lover's Dream!
Frank Lloyd Wright's masterpiece of modern architecture is home to one of the world's finest collections of 20th century art. Don't miss walking the grand ramp that curves from the ground to the dome. You'll see masterpieces by such noted artists as Chagall, Kandinsky, Picasso, and van Gogh, plus changing exhibitions that are always significant and intriguing. Modern art lovers will enjoy a world of Modern Art masters from Modigliani to Mondrian. Whatever your tastes, the collections and exhibits are well worth your time when visiting New York City.

Buy your tickets online and skip the line!

Location:
1071 Fifth Avenue (at 89th St)
New York, NY 10128-0173

Openings Hours:
Sun–Wed 10 am–5:45 pm
Fri 10 am–5:45 pm
Sat 10 am–7:45 pm
Closed Thursdays, Thanksgiving, Christmas Eve, Christmas Day
Some galleries may close prior to 5:45 pm Sun–Wed and Fri (7:45 pm Sat)


Your ticket will be sent within 24 hours in a separate e-mail.

Tickets will be sent via e-mail!