Vaart naar Liberty & Ellis Island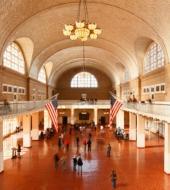 Vaar mee naar de beginselen van een multicultureel New York!
Met uw ticket heeft u de mogelijkheid om het Vrijheidsbeeld van dichtbij te bewonderen. U vaart vanaf het vasteland van New York naar Liberty Island waar het Vrijheidsbeeld zich bevindt. U kunt daarna vanaf Ellis Island het Immigratie Museum bezoeken.


In het Immigratie Museum doorloopt u de roemrijke geschiedenis van immigratie in New York. Vanuit dit monument kwamen de immigranten binnen na hun lange reis om te wachten op hun toestemming om New York te betreden. Deze trip maakt uw bezoek aan New York tot een onvergetelijke ervaring. Audiotour op Liberty Island is inbegrepen. Ook krijgt u een rondleiding van de parkwachter van het National Park.


Koop uw tickets online en ontloop de wachtrij!


$3,00 Online Reservation Fee inbegrepen. Tickets zijn non-refundable.


LET OP! Bezoekers worden gescreend door de beveiliging voordat de tour begint. Door de enorme stroom van toeristen kunnen tickets geboekt worden 7 dagen vanaf vandaag. Een exact tijdslot wordt naar uw verzonden per email na het boeken van uw reservering. Ticket worden binnen 24 uur verzonden. Door de renovaties en de minimale capaciteit valt het bezoek aan het Vrijheidsbeeld niet onder uw tour.
Duur: 3 uur


Vertreklocatie: Battery Park, New York


Route:
Metro: Local 1 (7th Avenue Line) naar South Ferry, of Express (Lexington Avenue Line) 4 of 5 naar Bowling Green, of Local van Brooklyn/Queens/R/W naar Whitehall Street Station.
Bus: M15 (East Side) South Ferry, of M6 (West Side) van 57th street.
Tickets worden gestuurd binnen 24 uur.
U ontvangt uw tickets binnen 24 uur na uw bestelling per e-mail

Tickets worden verzonden per e-mail.