Circle Line (2,5 timmar)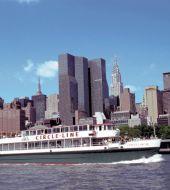 Circle Line två timmars hamnkryssning - Du kommer att njuta av den fantastiska utsikten!
Upplev New Yorks prakt under 2-timmarsuren som belyser stadens höjdpunkter. Du kommer njuta av en fantastisk utsikt över världens främsta silhuett och en närbild av Lady Liberty. Segla nedför Hudson, kryssa runt Battery, upp till East River, och under Brooklyn, Manhattan och Williamsburg Bridges till United Nations och tillbaka.
Drycker, mat och souvenirer finns ombord!
Vad du kommer se:
1. USS Intrepid Pier
2. Hoboken Pier
3. Newport Center
4. Jacob K. Javits Convention Center
5. Battery Park
6. Museum of Jewish Heritage
7. Statue of Liberty (Frihetsgudinnan)
8. Ellis Island
9. Wall Street
10. South Street Seaport och museum
11. Brooklyn Bridge
12. Manhattan Bridge
13. Williamsburg Bridge
14. Chrysler Building
15. Empire State Building
16. Migrations centrum
17. World Financial Center
18. Unied Nations
Turens längd:
2,5 timmar
Avgångsplats:
Pier 83, West 43nd Street & 12th Avenue, New York, NY 10019
Avgångstid:
Avgång:
- 11:00 pm
- 2:30pm (1/dag)
(Speciellt schema på Thanksgiving och nyårsdagen. Stängt på juldagen)
The ticket will be sent within 24 hours in a seperate e-mail.

Send by email