Niagara Falls från luften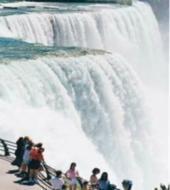 Dagsresan för dem som vill besöka snabbt Niagara Falls - dit och tillbaka på bara 14 timmar! Din eskorterade tur inkluderar:
- Tur och retur flyg mellan New York och Upstate NY Airport
- Tur och retur transfers mellan Manhattan Midtown hotell och flygplats
- Tur och retur trasfers mellan Upstate NY Airport och Niagara Falls
- Halvdags guidad tur i Niagara Falls från den amerikanska och kanadensiska sidan
- Journey Behind the Falls (Scenic Tunnels) eller Maid of the Mist båttur
- Lunchbuffé på restaurang med panoramautsikt över vattenfallen
Medhavda rätta handlingar är passagerarens ansvar. Amerikanska medborgare kräver nu ytterligare handlingar för att gå in i Kanada. Se www.dhs.gov för mer information. Ett kanadensisk visum kan behövas för icke-amerikanska medborgare. Kontrollera ditt hemlands regler.
Villkor:
Avbokningsregler för Niagara Falls:
• Full återbetalning för avbokade eller ändrade av datum erhålls minst 31 dagar före avresa.
• Ingen återbetalning för avbokningar och/eller ändringar som gjorts 30 dagar eller mindre.
• Inten återbetalning för uteblivna eller oanvända delar av turen.
Turens längd:
Ungefär. 14 timmar
Avgångsplats:
Tidigt på morgonen. Fråga din agent för exakt plats.
Avgångstid:
Dagligen
The ticket will be sent within 24 hours in a seperate e-mail.

Send by email